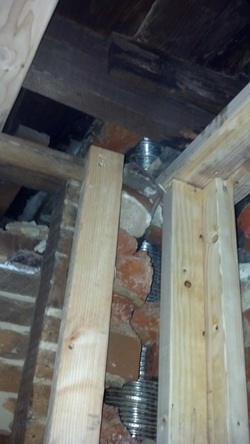 With many of our heating system replacement jobs, we include quote for a chimney liner. Some customers ask why it is needed and some customers decide to not have a chimney liner installed.

Chimney liners protect your family by preventing dangerous carbon monoxide gas from entering your home. As you can see in this picture, it is not unusual for the chimney mortar, and even the brick, to start to break down over time. This is common in many older homes in the area. When holes develop, poisonous exhaust fumes from your furnace can enter the living space of your home.

If you are getting a new heating unit, or if you recently had a unit installed without a liner, make sure you ask your heating and air conditioning company about a chimney liner. It will make the code official happy and keep your family safe!